Dr. JULIA KEEFER, Ph.D, CSCS, NSCA-CPT, M.A., M.A., AFAA, Spinning/Indoor Cycling, AEA, L.M.T. FITNESS RESUME 212-734-1083, julia.keefer@nyu.edu
In 2020 Dr. Keefer is teaching aqua, Best Butt Ever, and Muse at Equinox, cycling, kettlebells, cardio kick, step, sculpt, total body, boot camp, and AOA classes at the Ys in New York, and cardio kickboxing, ballet workout, spin, and belly dance fusion at NYU.
(212) 734-1083, 408 East 78th St. #3B, New York, N.Y.10075
julia.keefer@nyu.edu. WEB SITE:(URL) https://www.nyu.edu/classes/keefer

EDUCATION:
PH.D. New York University
M.A. equivalent: La Sorbonne, Paris
M.A. summa cum laude
B.S. Emerson College, Boston
TEACHING EXPERIENCE:
Universities: NEW YORK UNIVERSITY, POLYTECHNIC UNIVERSITY, MARYMOUNT MANHATTAN COLLEGE, BARUCH CUNY, EMERSON COLLEGE, BOSTON.
Clubs and Studios: SpeedArts, EvergreenEnergy, Kickboxing, Step Aerobics, Body Sculpting, Yoga, Aquatics, Arthritis Foundation Aqua Program, Spinning, Therapeutic Back Exercise, Anatomy and Kinesiology, and/or Workshops for Instructors at Equinox, Reebok Sports Club, Sports Club LA, New York Health and Racquet Club, New York Association of YMCA, SUNY, NYU Coles, Aerobics West, Ballet Academy East.
CERTIFICATIONS and LICENSES:
N.Y. STATE LICENSE FOR MEDICAL MASSAGE (through Swedish Institute) License renewed till 2020
OHASHI Certification for Shiatsu
Certified Strength and Conditioning Specialist till 2017
National Strength and Conditioning Certified Personal Trainer till 2017
National Academy of Sports Medicine Certified Personal Trainer
Aquatics Exercise Association Instructor till 2019 but lifetime membership
Aerobics and Fitness Association of America, (Aerobics, Aqua, Advanced Step Reebok Variations) LIFETIME
Certified Personal Trainer, Cardio Kickboxing Certification, YMCA Fitness Leader, Arthritis Foundation PACE and Aquatics Instructor, Senior Fitness and Aqua Fitness, Reebok and Johnny G Spinning Certification, Continuing Education credits in CPR (every year) in Interval Training, Strength Training, Nutrition, Kinesiology, Exercise for People with Arthritis and Soft Tissue Disorders, etc.

ASSOCIATIONS: The National Strength and Conditioning Association, The American College of Sports Medicine, The Aerobics and Fitness Association of America, Idea, The American Association of French-Speaking Health Professionals, The World Association for Online Education-- founding member and editor-in-chief of its online professional journal-- Journal of Online Education and EvergreenEnergy: Health, Fitness and the Environment.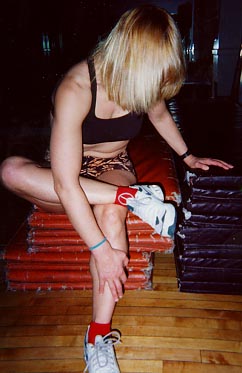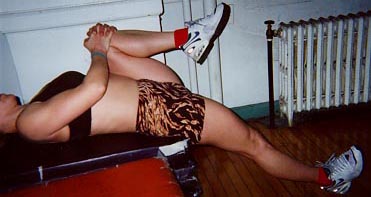 PART-TIME PRIVATE PRACTICE IN PERSONAL TRAINING, NEUROMUSCULAR RE-EDUCATION AND MASSAGE THERAPY from the neurologically impaired and arthritic to New York City ballet dancers; free-lance consulting(as a kinesiologist) or editing(as a writer) for a Sportsmedicine Center, an osteopath, a neurosurgeon, a podiatrist, an orthopaedist, a psychiatrist and a vascular surgeon.
TRAINING: 30 years of professional wrestling, kickboxing and advanced dance training in ballet, jazz and modern at major New York studios. Workshops in body therapies such as Laban's effort-flow, Bartenieff, Sweigard/Todd ideokinesis, Alexander, rolfing, sportsmassage, kundalini yoga.
Dr. Keefer's NYU e-book entitled From Pain to Performance, charts the course from physical therapy to performance training, with a physical, emotional, and cognitive approach to exercise, including Dr. Keefer's Corrective Clinic, prehab and rehab to keep you happy hab, Evergreen's Knockout Workouts, Evergreen's Fitness for the Four Seasons, and Cognitive Performance.
Julia Evergreen Keefer, a former professional wrestler and modern dancer, and current professor at NYU, is now a top kickboxing instructor, designing KNOCKOUT WORKOUTS for all ages. Trademarked classes include SpeedArts®, co-developed with Steve Feinberg of http://www.speedballfitness.com, Knockout Cardio-Core,a cardio-core conditioning class, beginning with belly dance mobilization and basic wrestling and martial arts moves, and continuing non-stop through various abdominal, side, buttocks and back exercises on the Swiss ball, using the body bar or thigh squeezer for extra resistance.
Dr. Keefer can teach PACE, AFYAP, indoor cycling, step, stretch, sculpt, slide, glide, yoga, aqua, dance fuze, kickboxing, ballet workout and core conditioning classes. She is a Lifetime Spinner, and is certified in Kettlebells with Jason Brown and Keli Roberts.
FITNESS SPOKESWOMAN on CBS news, Cable TV health shows, NBC Dateline