Legal Culture in the Countryside, 1905-1917
Jane Burbank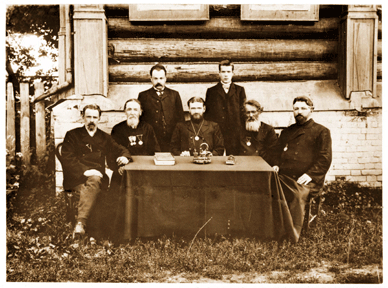 Judges seated around a table, in front of the township administration building at Bun'kovo, Bogorodskii county, Moscow province, 23 June 1906.
From the collection of Mikhail Zolotarev
Bloomington: Indiana University Press, 2004
"...will challenge (and should transform) existing interpretations of late Imperial Russian governance, peasant studies, and Russian legal history."
—Cathy A. Frierson
"...a major contribution to our understanding both of the dynamic of change within the peasantry and of legal development in late Imperial Russia."
—William G. Wagner
RUSSIAN PEASANTS GO TO COURT
explores the legal practice of Russian peasants in the early twentieth century. Contrary to prevailing conceptions of peasant backwardness, Russian peasants made ample and voluntary use of local courts. This book follows peasants into rural courtrooms, where they came before locally elected judges to settle disputes over economic resources and responsibility, to defend personal dignity, and to address the evil of small crimes in their communities. Even during war and revolution, peasants used courts extensively to adjust to harsh conditions imposed upon them. Although peasants' extensive use of the judicial system was ignored or misrepresented in their time, court documents reveal a widespread legal culture in the Russian countryside.
This web site provides materials that augment those published in
RUSSIAN PEASANTS GO TO COURT
. It includes figures, charts, and tables that may be of interest to readers of the monograph. Some items on the site provide more detailed views of calculations that informed the argument; others present information pictorially. The web site does not summarize the book and is not intended as a substitute for it. Instead, the site is designed to expand attention to the local courts of rural Russia, to suggest ways that they might be studied, and to open discussions of methods, conclusions, and further work on legal culture.
Contact the author by email at
jane.burbank@nyu.edu
.
For more information on the author, visit Jane Burbank's
website
.
To purchase the book, contact
Indiana University Press
.
1-800-842-6796
© 2004 Jane Burbank, New York University
with permission from Indiana University Press