FUZZY and his Cat Family
Although I lived in Manhattan from 1991 to January 7, 2006 I am now in cyberspace, outer space and deepspace for eternity. I send my love and best wishes to all of you humans and pets. My Mommy says my soul got too big for my body so it escaped all over the universe, bringing love, fun, play and generosity to everyone.
Mommy bought me at a pet shop on the Upper West Side and took me on one of her house calls. I was very good and said hello to everyone in the building. I love it when people pet my tummy.
Mommy lives in a small studio filled with tall books and plants. I fell in love with JoJo, who is a few months older than me.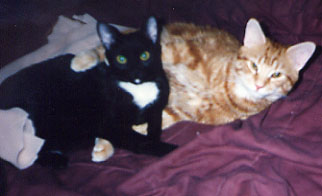 I was quite the stud, going on all day.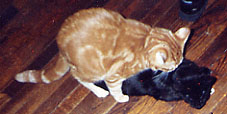 It was so much fun: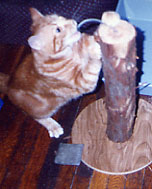 Mommy made a playground in anticipation of the kitties.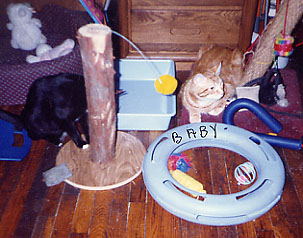 I was still a kitty myself.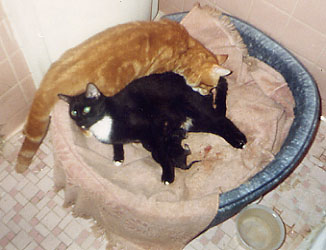 Then one Saturday night JoJo had five kitties in the bathroom and I helped deliver them.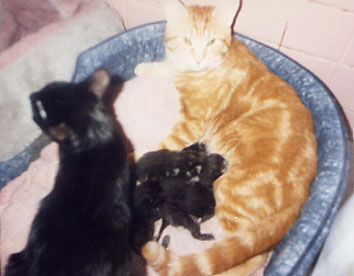 But the kitties loved me so much they thought I was their mother! Unfortunately I had no milk for them. But I played with them and took good care of them because I love other animals almost as much as people.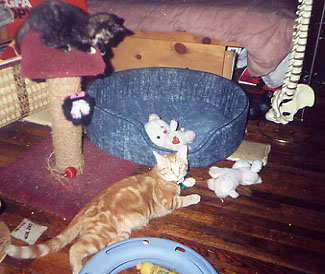 My favorite kitties are Kitty Hope and Giggles because I am always hopeful, even now, and I love to laugh.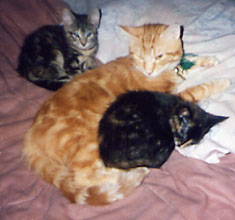 When the kitties were little, I would sometimes curl up in the bathroom sink to get some rest, however.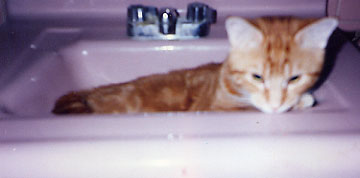 Giggles likes to look outdoors,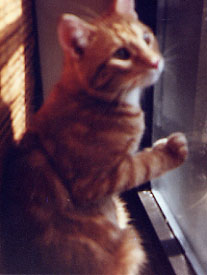 but I prefer the plants inside our apartment.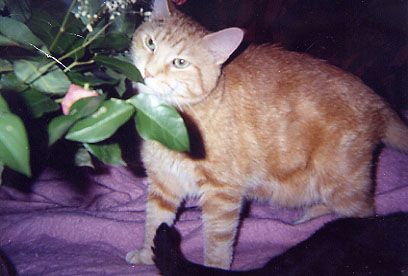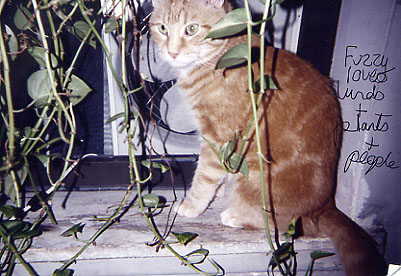 Sometimes Mommy has so many plants I feel like I am in the jungle.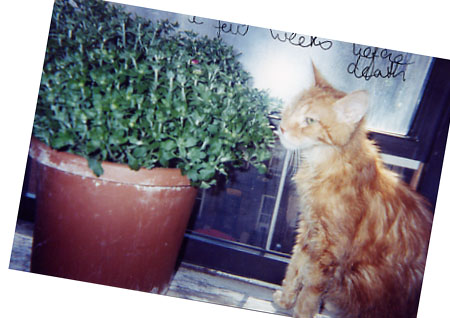 Even when I was sick my last fall, I loved the mums.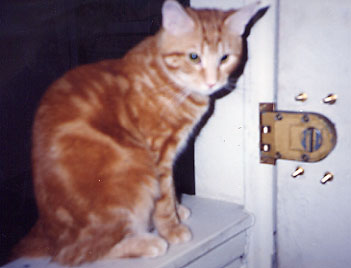 But my favorite activity was step aerobics--running up and downstairs with Mommy and visiting the neighbors and their pets. I couldn't wait till she got home.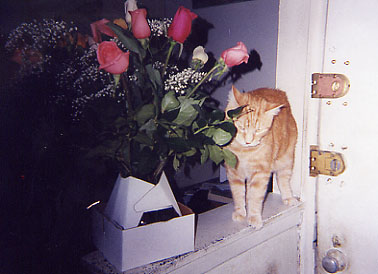 Anyway, I was really excited when we got roses from her boyfriend. I also love to camp out in the bookshelves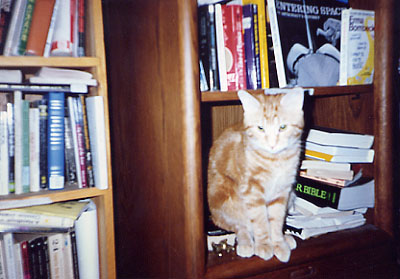 and my spirit is still there, helping Mommy write and read.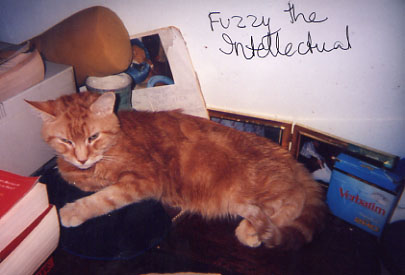 When I was 13 I got the beginning of cancer but I lasted for almost two years. At the end, my cat family protected me.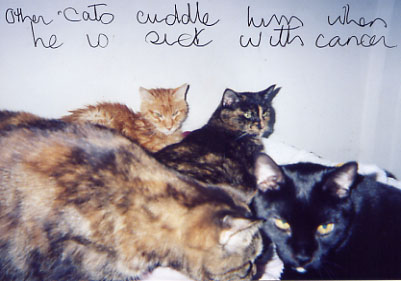 I wasn't in pain, just uncomfortable and eventually weak, but I never hid and I always ate my food and did a good poop.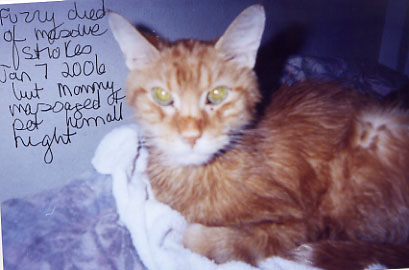 The night I died I stuffed my face in my favorite crunchy food, climbed my litttle ladder Mommy made out of books and sweaters and went to her bed for a series of strokes. She held me in her arms all night, petting and massaging me, praying for my soul, and it made me much less scared.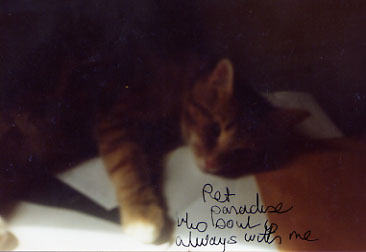 Strokes look much worse than they feel because I was delirious. When we went to the vet in the morning I let my soul escape from my body as we walked down the street because I hate hospitals and needles. My soul flew past the 96th St mosque to Pelham Bay Park to play with the birds. That Sunday Mommy came there. My body was cremated with other cats but my soul lives forever, one paw in Pet Paradise, the other in Mommy's shoes because she does so many interesting things.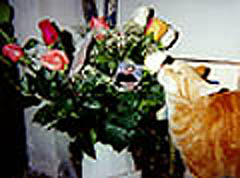 Mommy will never have another pet like me but I hope she gets a boyfriend who loves her half as much. Meanwhile I wish you all peace, happiness, fun, love and yum yum! Next time around I may try to be a human because the human race needs more loving people. In case you are still sad about the death of your pet, please note the following literary quote:
By quoting Naguib Mahfouz, Nobel Prize Winner, in his story, "A Voice from Another World," I can look at death another way:
"For it is not regret or sadness that grips the dying person. Rather, life appears as something paltry and unimportant when one intuits on the horizon that divine and joyous light. I was shackled with fetters, then they were smashed. I was trapped inside a vessel, then I was set free. I was intensely heavy on the earth, then I shed my bonds and was rid of my weight. My form was narrow, then I stretched everywhere outward without any bounds. My senses were limited, then each faculty changed utterly; I could see all and I could hear all and I could comprehend all, and I could perceive all at once what was above me and below me and around me--as if I had left my body sprawled before me to take from Creation an entirely new one. This total transformation that defies description took place in an instant. Yet, I still felt that I had not quit the room that had witnessed the happiest moments of my previous existence. It was as though I had been made custodian of my former body until it reached its final rest. (73)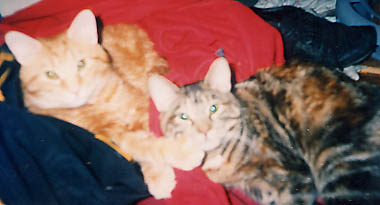 On January 8, 2009 Kitty Hope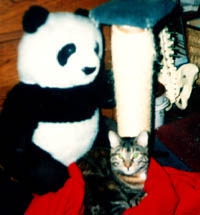 died of heart and kidney disease, but her spirit penetrates evergreen trees that are always hopeful; on March 18, her mother, my darling wife JoJo,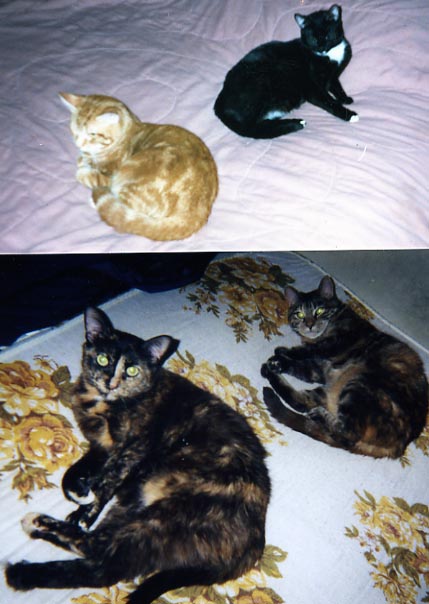 died of pneumonia from old age at home in bed with Mommy, but her spirit plummets through rocks to the secrets at the center of the earth, and Giggles has a mouth tumor, but she took over the step aerobics and went to the park to see daffodils, cherry blossoms, azaleas, lilacs, and roses. Her favorite place is Shakespeare's garden and Forever Wild for she is a beautiful flower spirit, perennially gorgeous, generously helping us to tolerate life's imperfections through her gentle laughter.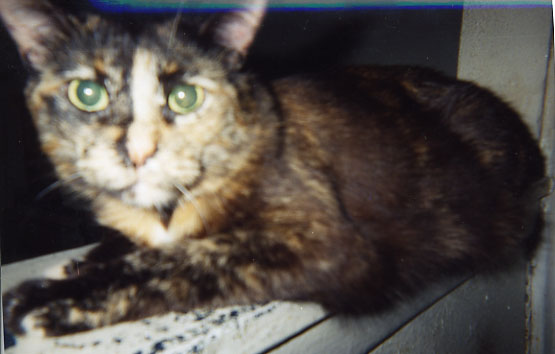 Giggles loves to play especially if she gets brushed afterwards so that she will be pretty. She misses our cat family, but she helped Mommy catch 45 mice so that our studio will also be clean and pretty. I am so proud of Giggles. She bravely fought the skin cancer and old age, eating Murray's chicken, delicious fish recipes especially for cats, kale, wheatgrass, and flaxseed. She played in the park several times a week, but finally on June 28, 2010 at 6:30 am she had a stroke, her lungs filled with fluid, her heart fibrillated, and she passed on while Mommy held her and petted her on our bed. Giggles is much more physical than me, so she will come back as a bird tweeting at Mommy's window with the latest sky gossip instead of roaming around the universe like I do. She will also help Mommy write her books and be a martial artist since G is both smart and strong and caught so many mice in her last year of life! I will help Mommy narrate Huguenot St, JoJo will be the voice of metamorphic rock in the MMM book, and Giggles and Kitty Hope will help narrate The Igneous Family. Mommy will also write poetry about us, and put our personalities, lives and deaths into her fictional characters and poems. Mommy loved us so much she will never have another pet again, unless he belongs to a boyfriend. We can never be replaced, only remembered and immortalized.
Baby Cora also loves animals, and my spirit is also with her.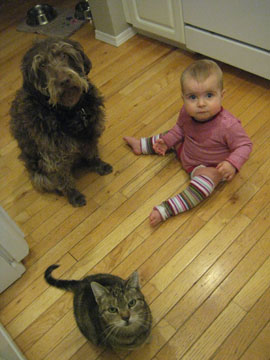 Fall 2010: My cat family now extends to a new kitty, called Sphinx, a red Abyssinian whom I babysit when Mom is at work.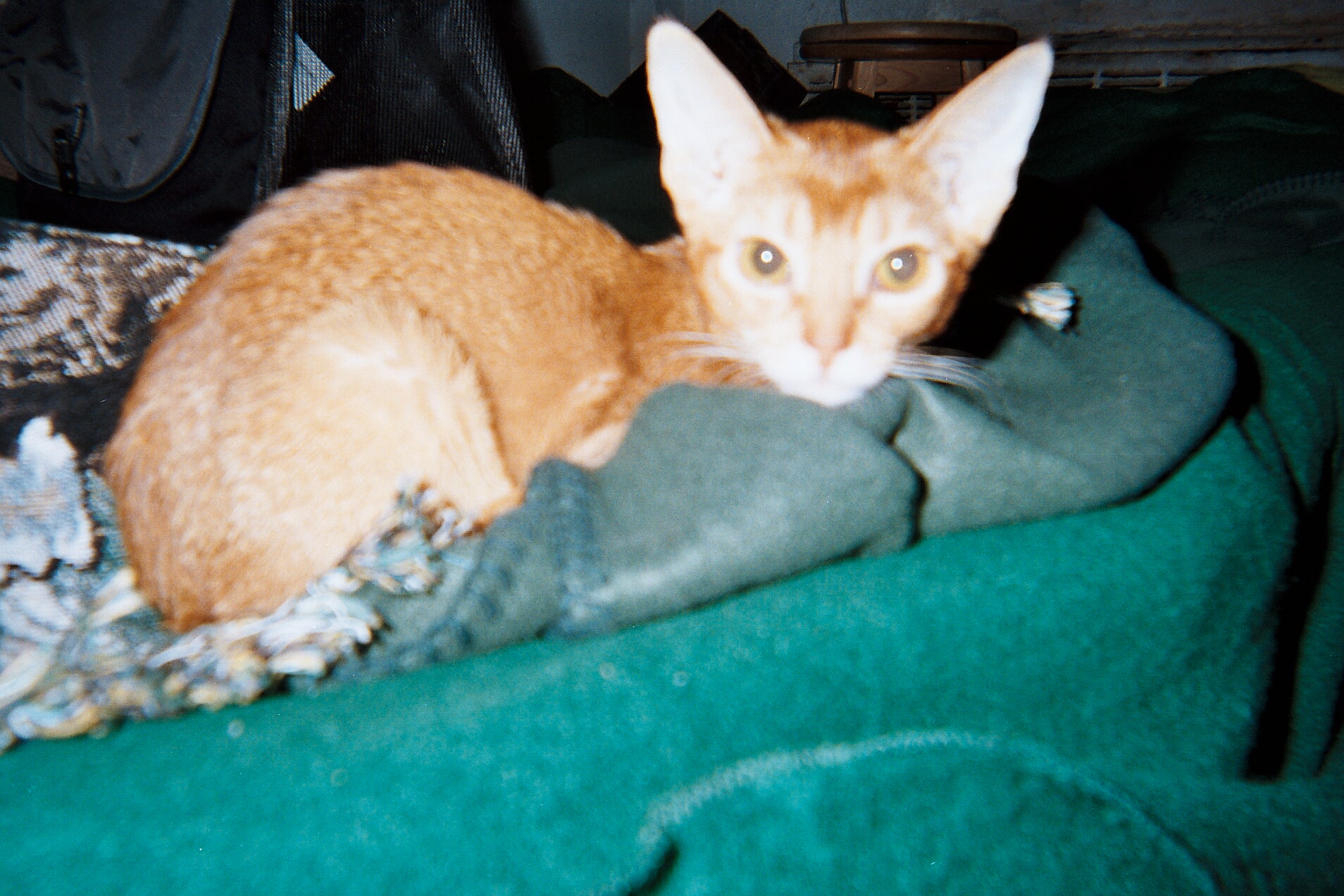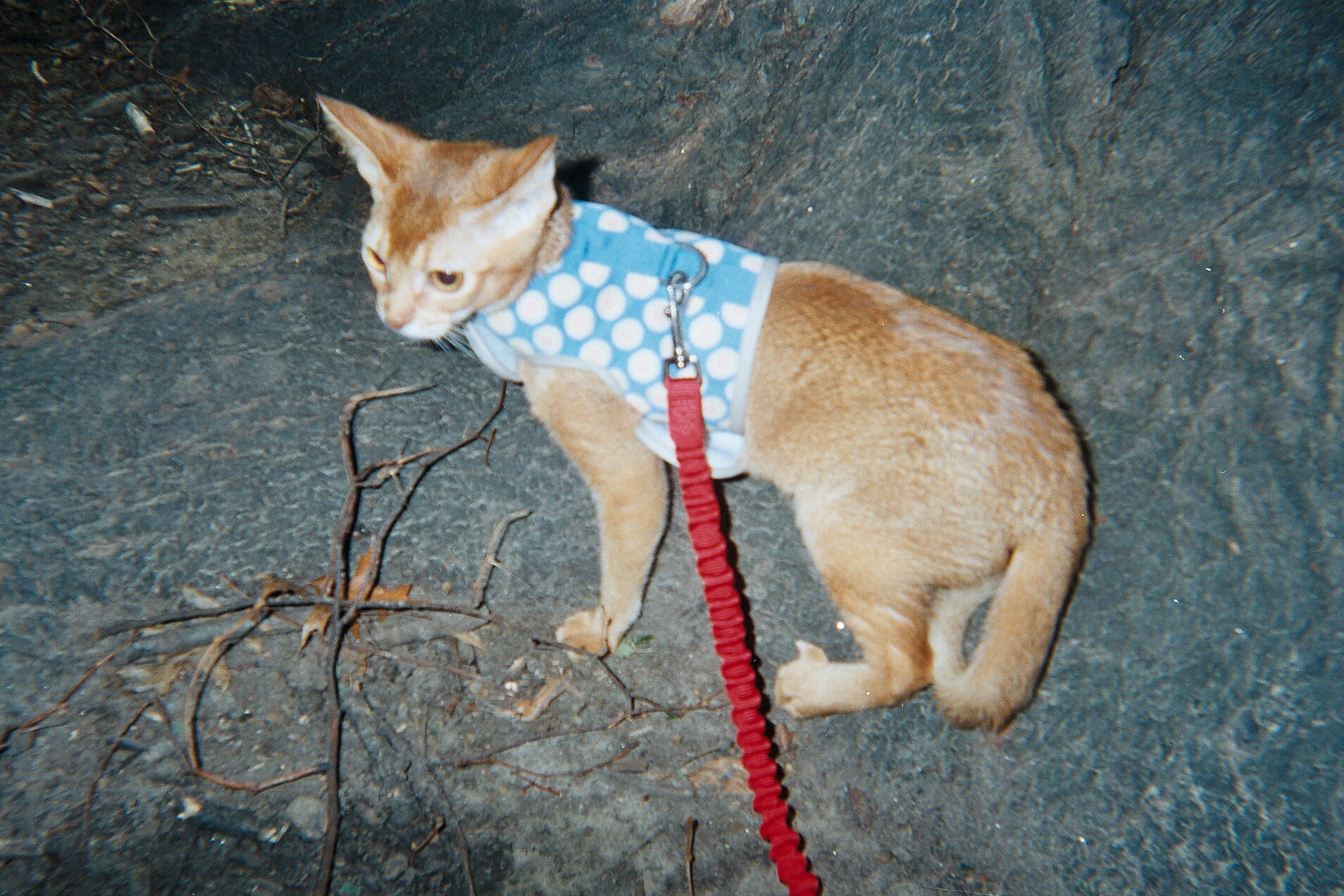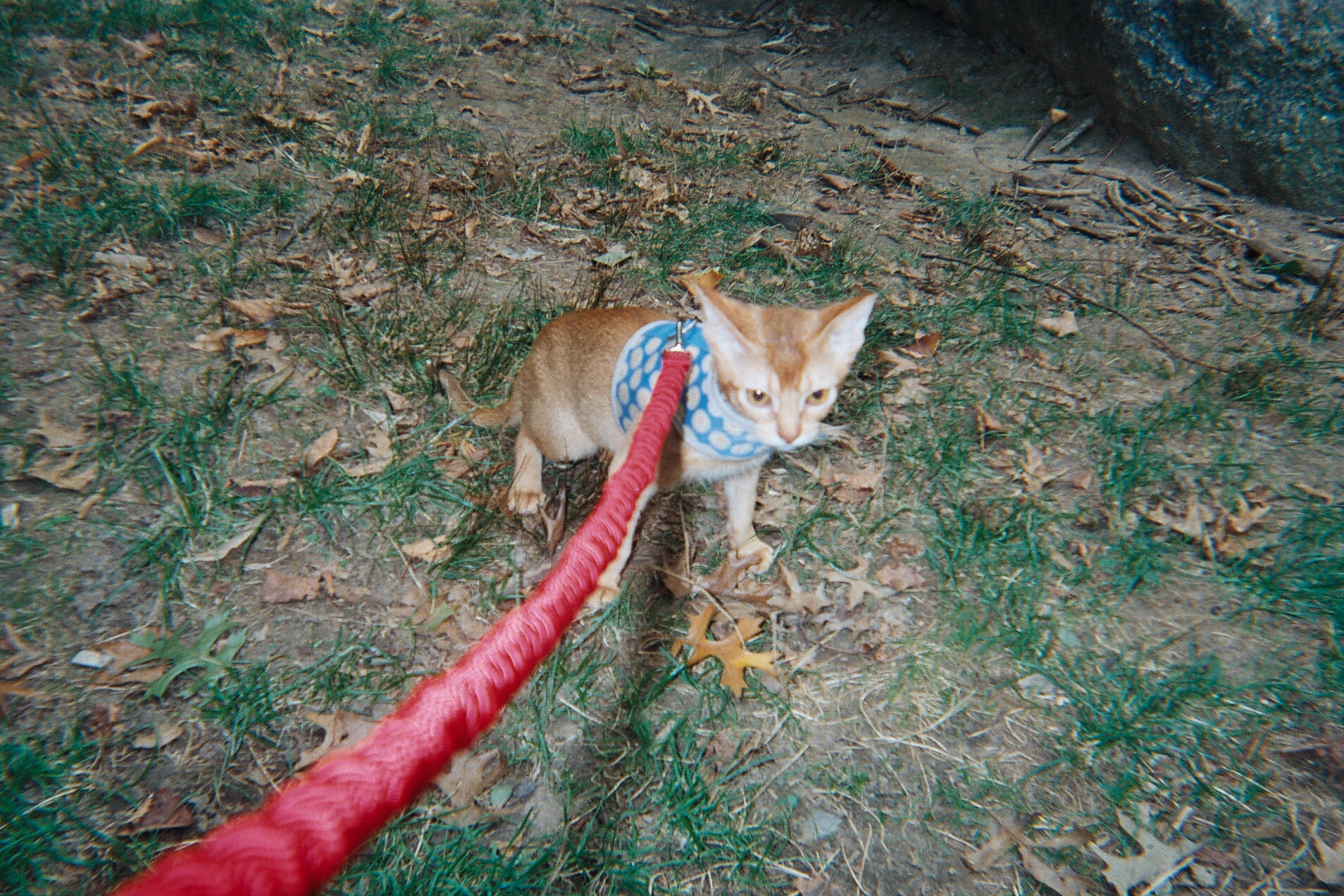 Like Giggles she loves to go to Central Park, but she is a bit like a dog, so Big Mommy bought her a leash.