Your Community Online
Professor Keefer's WWI and WWII Classes Spring 2000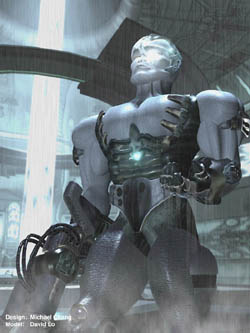 THIS COURSE FOCUSES ON THE PROCESSES, PRODUCTS AND NARRATIVES THAT ENTWINE THEMSELVES AROUND EMERGING SOCIAL FORMATIONS ONLINE. WE WILL RESEARCH YOUR FAVORITE COMMUNITY IN CYBERSPACE AND ITS MEATSPACE COUNTERPART, IF IT HAS ONE. HOW DO THE INTELLECTUAL, SOCIAL, POLITICAL, SEXUAL, EMOTIONAL DYNAMICS CHANGE BETWEEN PEOPLE AS WE GO DIGITAL? ARE THESE CONSTRUCTS CASTLES MADE OF SAND, OR DEEPER CAVES THAT BRING US TO A NEW UNDERSTANDING OF OURSELVES?
Cyberperformance VIII: Your Community Online. May 6, 2000 at NYU
Cyberspace and the Noosphere by Ruth Snapper
Just Go Away: Tips on E-Commerce by Joseph Messina
Phenomenological Strategy for Cognitive Positioning by David Mazzacua
To Hear or Not to Hear...Voices? by Edgar Jaramillo
Sex, Lies and the Internet by Melinda Sledge
Cognitive-Behavioral Treatment of Post Traumatic Stress Syndrome Symptoms in Cyberspace
Shame: Psychotherapy On and Offline by G-Man
Tutoring Online versus Meatspace by Desmond Ross
Looking for a Marital Partner Online by Jane McCormick
Cyberspace and Weight Loss by Natalie Cazeau
Juvenile Diabetes Online by Annmarie Lobdell
Therapy for Alcoholics On and Offline by Kervin Vale
Online Help for Working Mothers who Return to University by Ivory Farley
Cyberspace and Weight Loss in Adult Women by Natalie Cazeau
Bulimia Online by Shannon Murphy
Love Addictions in Cyberspace by Dawn Pineda
Emotional Adultery by Ardeana Kirkland
Classes consist of improvisational writing and discussion on course theme, lectures on logic, rhetoric, academic and other styles, research methodologies and sources, web design and the internet, interview techniques, and bibliographic format, oral presentations of prepared writing and research projects, culminating in the Cyberperformance.
Reading List
Required:Cybersociety 2.0 by Steven Jones and Life on the Screen: Identity in the Age of the Internet by Sherry Turkle
Optional: Garfinkle. Architects of the Info Age. Mit Press, 2000.
Kearns, Salla and Cohn. Advances in Neural Processing Systems. Mit Press, 2000.
Mitchell. E-topia: Urban Life, Jim, But Not as We Know It. Mit Press, 2000.
Westland and Clark. Global Electronic Commerce. Mit Press, 2000.
Jan.22: In-class improvisational writing and diagnostic on course theme of community. Read intros and first chapters of Turkle and Jones. Bring 2-3 pages on this chapter for next week. Students introduce themselves and their objectives, careers and life experiences. Lecture on thesis as question, statement and dilemma-- full sentence with subordinate clauses. Difference between thesis, hypothesis, and antithesis.
Jan.29: Discussion on the theses of Turkle and Jones. In-class wriitng on different methodologies and styles-- Mac, PC, longhand. Bring 2-3 pages of writing on it for next week. Students discuss how their memories and experiences relate to course theme. Read Part I (Turkle) and Chapter 1(Jones). Lecture on definitions, categories, organization, research sources. Lecture on academic style compared to journalism and business writing.
Feb.5: In-class writing on power struggles in the community. What is your antithesis? Who are your opponents? Each student must choose a community-- intellectual, medical, social, sexual, political etc. to research online. You can compare this community to its meatspace counterpart or to another community online. Find a cyberpal to correspond with throughout the semester about your project. Try to pick someone you have never met who is free to come to the Cyberperformance on May 6 so you can contrast cyber-expectations with meatspace presence. (Don't get nervous-- this is NOT mandatory, just a suggestion. Any fears about the internet should be discussed with the professor.)Discussion and free writing on Turkle and Jones. Read Chapter 3 in Turkle and Jones and bring 2-3 pages of writing on it for next week. Lectures on basic research resources: the library, the internet, the community.
Feb.12: Discussion and free writing on Chapter 3. Read Chapters 4 in Turkle and Jones and bring 2-3 pages of writing on it for next week. Lecture on thesis identification and development as well as the pitfalls of logical fallacies.
Feb.19: Writing exercises on logic and semantic clarity. Group discussion and writing about what makes a community great. Discussion of Chapters 4. Read and write Chapters 5, 6 and 7 for next week. WWII students should have the proposal for their final project ready. WWI students choose a genre and subject to write about next week that really excites them, no matter what it is. Write with passion!
Feb. 26: Discussion and free writing on Chapters 5, 6 and 7 and bring 2-3 pages of writing on them. From now on, WWII students can substitute this writing assignment with 2-3 pages on their final project, if they so desire, but they MUST submit writing every week. Discussion and free writing on Chapters 6 and 7. Read Chapters 8-10 and bring 2-3 pages of writing on it.
March 11:Lecture and writing exercises on applying thesis development to projects and webfolios. Lecture on refining style and argumentation.
March 4: MIDTERM. 5(I) and 8(II) pages. Individual Conferences.
March 18: Spring Break
March 25: Oral presentations on research development for final project: 2 books, 2 professional articles, 2 websites that refute or support your thesis. Everyone must put their abstracts into the Keefer forum.
April 1: Bring in final bibliography, revised outline, progress reports.
April 8: Individual conferences on projects and webfolios. Prepare final paper. Work on oral presentations for Cyberperformance.
April 15: Bring 5 copies of rough drafts for cross-editing.
April 22: Rewriting, revising, multimedia and web design for WWI students. WWII students should bring five copies of their final paper for cross editing.
April 29: Deadline for final webfolios and research projects. Multimedia and web design for both classes.
May 6: CYBERPERFORMANCE VIII: Finding Love, Health, Wealth, and Knowledge Online -- Arrive at 4:30 in Room 313.
---